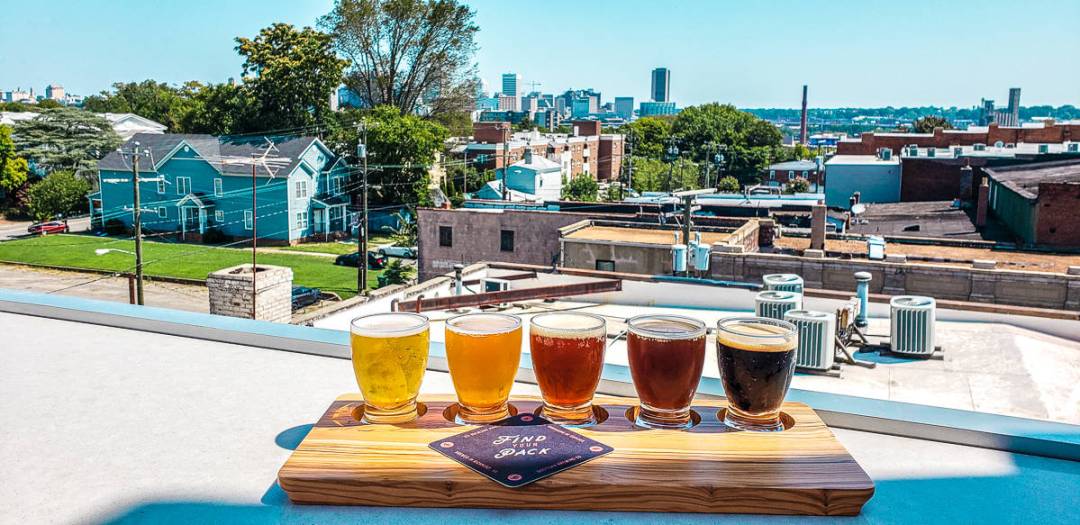 Today, July 5th, is pretty much the Mondayest Tuesday ever. So let's talk about something fun, shall we?! The weather is on fire and the world is reopening – what better way to celebrate than to hit up some of Richmond's best rooftop bars?! A cold drink AND view is a tough combo to beat! Here are some of the best ones according to BoozingAbroad.com:
Hofheimer
Photo Credit: The Hof Garden Facebook
While you won't see the epic downtown skyrises from here, the Hofheimer (affectionately called the Hof by locals) is a great rooftop bar option, especially during baseball season.
The close proximity to and views of the Diamond during the summer guarantee some fireworks action.
Both a beer garden and a full liquor bar, you can bask on the rooftop while overseeing the Scott's Addition brewery scene below.
The Byrd House at Graduate Hotel Richmond
Located in the downtown area of Richmond, the Byrd House has incredible views of the historic Jefferson Hotel as well 360-degree views of the city. Plus, they have a rooftop pool!
With great shareable snacks and some great local beers on tap, this bar is a fun spot for a drink. 21+ only allowed on the roof.
Kabana Rooftop
Photo Credit: The Kabana Rooftop Facebook
Looking for a top-notch rooftop party (see what we did there?)?
As the tallest rooftop bar in Richmond, Kabana Rooftop is located on the 20th floor with incredible views of downtown.
Open until 1:30 am on Friday and Saturday night, if you want to dance the night away under the stars, this is your bar. They also have a kick-ass cocktail list that pairs nicely with their brunch on the weekends too.
21+ only allowed on the roof.
Q Rooftop Bar at Quirk Hotel
The Q Rooftop Bar is a 2-story outdoor rooftop bar in Richmond that offers craft cocktails, beer and wine on tap, top-shelf liquors, elevated street fare and unbelievable views!
If they are closed for inclement weather, their lobby bar is perfect for a drink and as a bonus, it's super Instagram-able for those looking for great pics!
Starr Hill Brewery
While not the most epic view of all the rooftop bars in Richmond, Starr Hill Beer Hall and Rooftop is the only brewery in Scott's Addition with a rooftop.
Complete with a ground-level taproom and an all-season rooftop patio with great views of Richmond, Starr Hill is a great place to grab a beer with friends, listen to some live music, play some trivia, and try some of Richmond's delicious food trucks.
Dogtown Brewing
Dogtown Brewing is located just south of the city and has a completely awesome rooftop area.
This is one of the few rooftops outside of the city from where you can still see the full skyline from afar. With German-style beers and food, this place offers a laid back atmosphere with great craft beer!
So grab some friends, get out, and support local businesses! Enjoy!